Specimen Dies to any Specification
Pioneer-Dietecs makes specimen dies to any specification—ASTM, JIS, DIN, ISO. Visit our die store for a complete list of common specimen dies. If you don't find what you're looking for in our die list, call 781-682-7900 or request a quote and we'll get back to you with a quote for your die. Custom dies to proprietary specifications are also available.
Dies Engineered for Precision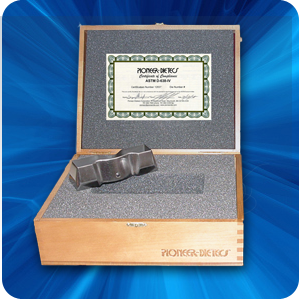 Each die is EDM'd inside and out for uniform, controlled bevels to enhance sharpness and minimize cut-part distortion and certified to any ASTM, JIS, DIN or ISO standard.
Specimen die tolerance typically +/- 0.002″ unless noted otherwise
Forged die tolerances are +/- 0.020″
All dies are available in stainless steel at additional cost
Each Pioneer-Dietecs specimen die comes in its own deluxe wood storage case along with a certificate of compliance, maintenance log and archiving. When a die requires maintenance it can be returned to Pioneer-Dietecs for reconditioning, sharpening, re-certification and archiving of the maintenance log for an ISO paper trail.
Quality, Consistency, Performance
Pioneer's Metrology Lab features a state-of-the-art CNC computerized measuring machine (CMM) for die inspection and certification to produce precision dies that perform consistently, again and again. Our CMM checks tolerances to 0.0001″, the tightest in the die-cutting industry. Certification is per ANSI/NCSL Z540-1, and meets ISO 17025;2005 specifications. Pioneer certifies dies' dimensional tolerances to 0.002″ and maintains a perpetual archive of each die's history.
Buy Direct from the Manufacturer
There are many advantages to working directly with the manufacturer. As a manufacturer of both dies and presses, we understand the entire die-cutting process. We can help you optimize your process and provide personalized service at a lower price point. By eliminating the middle man, you get better service and a lower price.

How to Order Specimen dies
To order dies online:
Choose accessories and/or maintenance plan
Choose shipping options
Pioneer makes dies to any specification. If you don't see what you're looking for on our list of common die types,request a quote or call +1-781-682-7900 to order.
Die Accessories
As a manufacturer of both dies and presses, Pioneer offers a full range of die accessories for all your specimen die-cutting needs. To order die accessories,
make your die selection
, and then choose the appropriate accessories to accompany your dies. There are no shipping fees for accessories when shipped with dies.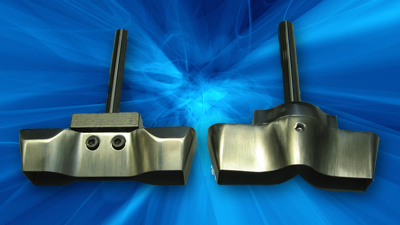 Die Accessories
Mallet Handles — $150
Toggle Press Shanks — $150
Universal Toggle Shanks — $150
Wallace Shanks — $150
NAEF Holders — $150