The Pioneer-Dietecs Specimen Die Store
Specimen Dies Direct from the Manufacturer
As a manufacturer of both dies and presses, Pioneer-Dietecs has everything you need for your die-cutting process. With over 50 years of experience machining dies, specimen dies are our specialty, with close tolerances that far exceed standards for enhanced sharpness and long die life. Pioneer manufactures dies to meet every specification—ASTM, JIS, ISO and DIN. The Pioneer-Dietecs Specimen Die Store at ASTMDie.com offers specimen die products and services. To learn about Pioneer-Dietecs other products, visit Pioneer-Dietecs.com.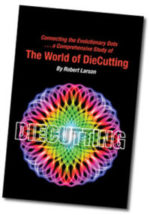 The World's Most Comprehensive Guide to the Die-Cutting Process
The World of DieCutting connects all the evolutionary dots of the many parts of the die-cutting process. Written by world-renowned die-cutting expert Bob Larson, The The World of DieCutting has everything you need to know about die-cutting. With over 570 pages of information on flatbed, multi-contour and rotary die-cutting as well as associated tooling systems, The World of dieCutting is an invaluable resource for anyone in the die-cutting business.
Special Price: $39.95 — Two Ways to Order
Order your own limited edition copy for just $39.95, $10 off the published price of $49.95. Shipping is free if ordered with a Pioneer-Dietecs die or press in the Pioneer-Dietecs Specimen Die Store. Simply choose your die store product and select The World of DieCutting as an add on purchase to get FREE Shipping.